We're going to the parade!
You heard it here first – we will be returning to Barrie's Santa Claus Parade by the Barrie Chamber of Commerce!  Last year, we teamed up with Clintar to join the fun-filled seasonal event and showed off some of our volunteers carpentry and painting skills. Take a look: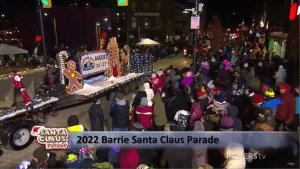 Yup! Our volunteers did that! Now, this year's theme is: Parade of Lights! We're recruiting volunteers again for this year's parade float and we need some: IDEAS! CREATIVES! BUILDERS! PAINTERS! JACKS AND JILLS OF ALL TRADES! If this sounds like you, please reach out to us at the office at [email protected] or 705-726-1200 and we'll sort you out with some more details! Volunteer hours will fall on weekday evenings and will provide light refreshments and snacks such as hot chocolate, Christmas themed treats, Christmas music and Christmas movies to accompany us while we work away like Santa's little elves. We also welcome you to join us on the float in two different ways: On the float – waving at the crowd and smiling with holiday spirit or – by cheering us on from within the crowds! Join us at the Essa Agriplex for some warm drinks and creative collaborations!