Greetings from Essa National Draft Horse Show: 
The Essa National Draft Horse Show was started by devoted Draft Horse Enthusiasts with the support of the Essa & District Agricultural Society, generous sponsors and dedicated exhibitors.  The show has established itself as one of the premiere Draft Horse Shows in Ontario at the Essa Agriplex.
As 2022 and 2023 were a great success, we are planning for a bigger and better show for Saturday August 5th & Sunday August 6th, 2023.    Exhibitors start at 9:00 a.m. both mornings with the inspection by the judge on soundness, conformation and quality to choose the champions of the day in the Mare line classes on Saturday morning and followed on Sunday morning will be the Stallions, Geldings line classes and the Youth showmanship class.
Scheduled for 1:30 p.m.,  both days, our highlight "The Six Horse Hitch"   of draft horses will be presented with skill and determination by our drivers before the judge.   Don't miss the breathtaking moment as the power and strength of these animals enter the ring, view the sun glistening off the harnesses and feel and hear the thunderous stride of these large magnificent animals as they perform for you.  A precious moment each and every time you witness this event.
Also joining us for the second year is the Equine Mounted Games Canada.  Don't miss this wonderful group of riders and athletic horses.  Join them in cheering on their fellow competitors as they race against time and technique on horseback, these games challenge both the ability of their horse and themselves as a rider.    The Equine Mounted Games will perform all day in the sand ring to the north, and will join the draft ring throughout both days to demonstrate how much fun they have and how they meet their challenges of the games on horseback.   Be ready to Cheer!
Each day you are invited to browse and enjoy the varied vendors on display under cover in Barn 1 or the grass area beside. Something for everyone!
Please consider sponsoring a class in 2023 by contacting [email protected] or calling 905-939-7183.  A general sponsor, a wagon sponsor or a class sponsor is greatly appreciated.
On behalf of the Essa & District Agricultural Society, the show committee, the exhibitors themselves and our loyal spectators, we wish to express a sincere thank you to all our sponsors of the Essa National Draft Horse Show.
This show would not happen without your support.
Thank you!
Admission
$10 per person

$25 per carload
Thank you to our 2022 Sponsors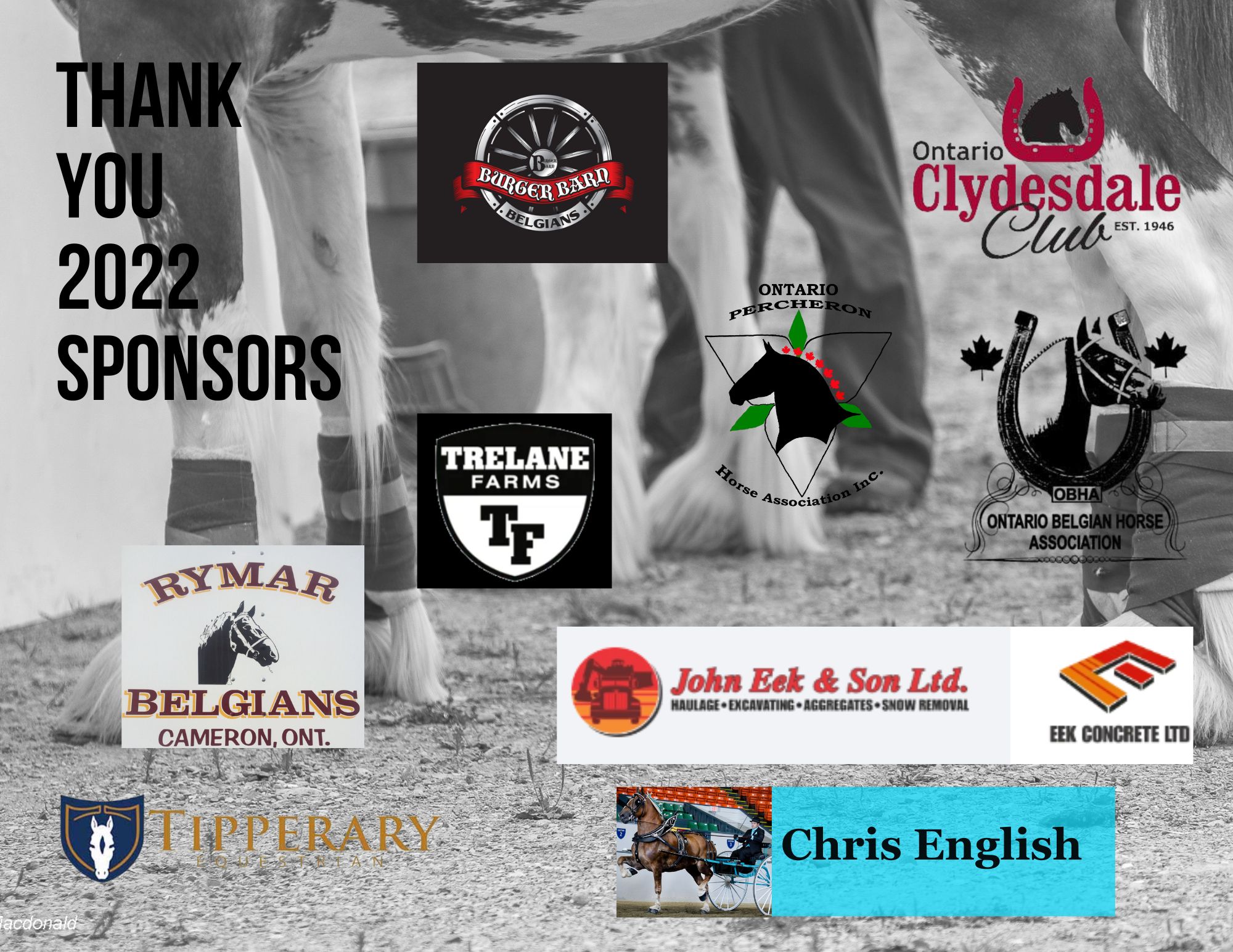 "Burger Barn "Celeste & Jason Hill.
Anderson Farm, Tipperary Equestrian;
John Eek & Sons Ltd, (Haulage in Simcoe County & beyond)
Chris English
Ontario Belgian Horse Association
Ontario Clydesdale Club
Ontario Percheron Horse Association
The Belgian Mounted Brigade.
Peak and Valley Farms, Erika & Dave Zister
Trelane Farms, Andrea Thompson & Don Flemington
Rymar Belgians, Mark & Shannon Lindquist
Stoney Lake Belgians, Darrell Drain
John Leask
Aicro Clydesdales, Brian & Lisa Timmons
Laurel & Richard Sowden
Greenwood Farm, Lynn & Ian Greenwood, Ray Martin
Towerview Clydesdales, Tyler Wilkieson,
James G. & Mary Thomas
Remlap d Or Belgians, Beth Palmer/Don Orr
John & Margaret Northcote
Pinebar Belgians, Barb &Keith (Piney) Meyers
New Dreams Farm, Rob McArthur & Sonja MacDonald
Hughhaven Farm, Connie & Glen Hughes & Family
Essa District & Agricultural Society
Thank you   
Essa National Draft Horse Show Auction May 2022
Donated Item                                                         Highest Bidder                          
1

Jeff Robbins Reset shoeing

Dave Zister

 

2

Steve Gregg Reset shoeing

Dave Zister

 

3

Jeremy Tingey Reset shoeing

Kim Hadwen

 

4

Donnie Lowes Reset shoeing

Dave Zister

 

5

Triplex Flex Supp (Candace Sirianni)

Erika Zister

 

6

12L Ice Bucket Chilly Moose

(Connie Hughes)

Claire Gregg

 

7

Wine & Tumblers – Chilly Moose

(Connie Hughes)

Lori Carson

 

8

Pennwoods Supplements

 (Lindquist Family)

Russell Baird

 

9

Box of Beef

(Becky Duesling & Nate Fenech)

Don & Kerry Lowes

 

10

Hock Boots (Carson Farms)

Rusty McArthur

 

11

Painting Bridle (Beth Palmer/ Don Orr)

Andrea Thompson

 

12

Sketch Clyde Horse & friend (Glenn Heath)

Beth Palmer

 

13

TSM Design Ad (Taylor McClain)

Joanne Douglas-Lane

 

14

Feeder (JW Fab – Jason Gregg)

Marion Young

 

15

Picnic Kit (Dave & Lana Besley)

Lisa Banga

 

16

Tack Box (Erika & Dave Zister)

Don Flemington

 

17

Chocolate Cake (Judy Lipsett)

Rusty McArthur

 

18

Wagon Ride (Scott Sowden)

Rusty McArthur

 

19

Breaking/Driving (Rusty McArthur)

Chad Lee

 

20

Blk Welcome metal sign

(John /Margaret Northcote)

Kim Hadwen

 

21

Blk Wind Spinner (J/M Northcote)

Sherry Stephenson

 

22

Red Spinner (J/M Northcote)

Janine Adams

 

23

Yellowstone Sign (J/M Northcote)

Kim Hadwen

 

24

Red Welcome (J/M Northcote)

Abbie & Betty Brander

 

25

Longhorn Skull (Thompson/Flemington)

Donna Martin

 

26

Xmas print (Hughes/Mctaggart Families)

Dave Besley

 

27

Stall Fronts (Shannon Hughes)

Sue Suzey L

 

28

Pie (Shannon Hughes)

Bob McMullin

 

29

Shoes (Jeff Robbins)

Sherry Stephenson

 

30

Syrup/Tarts (Hossie/Braiden)

Wayne Stephenson

 

31

Flour Combo Set

(McKeown Farms/1847 Mill)

Beth Gregg

 

 
 
 
 

Thank you for your contributions and support

$3755.00